ECN en PBL lanceren 27 september The Global Energy Assessment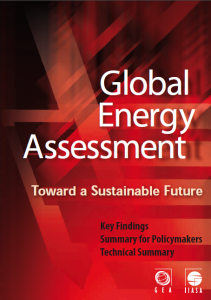 Op het door het ECN en PBl georganiseerde symposium in Denhaag wordt het door IIASA geschreven rapport gelanceerd. The Global Energy Assessment (GEA) is de uitkomst van de vraag: hoe kunnen we komen tot een schoon, betrouwbaar en betaalbaar wereldenergiesysteem?
De (GEA) is de meest uitgebreide en eerste volledig geïntegreerde wereldwijde verkenning van het mondiale energiesysteem. Het is een unieke inspanning: meer dan 500 wetenschappers, beleidsmakers, industrie- en energie-experts uit 70 landen hebben een scala van oplossingen bestudeerd voor een van de grootste uitdagingen waar de 21ste eeuw mee worstelt: toegang tot schone, betrouwbare en betaalbare energie voor iedereen. Wat moet er gebeuren om samenlevingen te helpen zich verder te ontwikkelen op een duurzame manier, wat zijn daarvan de kosten en baten?
Op het symposium zal  Prof. Dr. Nebojsa Nakicenovic (Deputy Director, IIASA and Professor, Vienna University of Technology) een presentatie geven over 'Global Transformations Toward a Sustainable Future: Major Challenges and Opportunities'.
Het Nederlandse beleid zal op deze middag door diverse sprekers en auteurs toegelicht worden met dit GEA rapport als uitgangspunt. Zo zullen Wim Turkenburg (Universiteit Utrecht), Monique Hoogwijk (Gemeente Utrecht), Geert Verbong (TU Eindhoven), Detlef van Vuuren (PBL) en Heleen de Coninck (ECN) hier dieper op ingaan.
Afsluitend staat er een paneldiscussie op het programma onder leiding van Remko Ybema (ECN) met als onderwerp 'Wat moet Nederland met GEA conclusies?'.
Het hele programma van deze middag is via deze link in te zien.